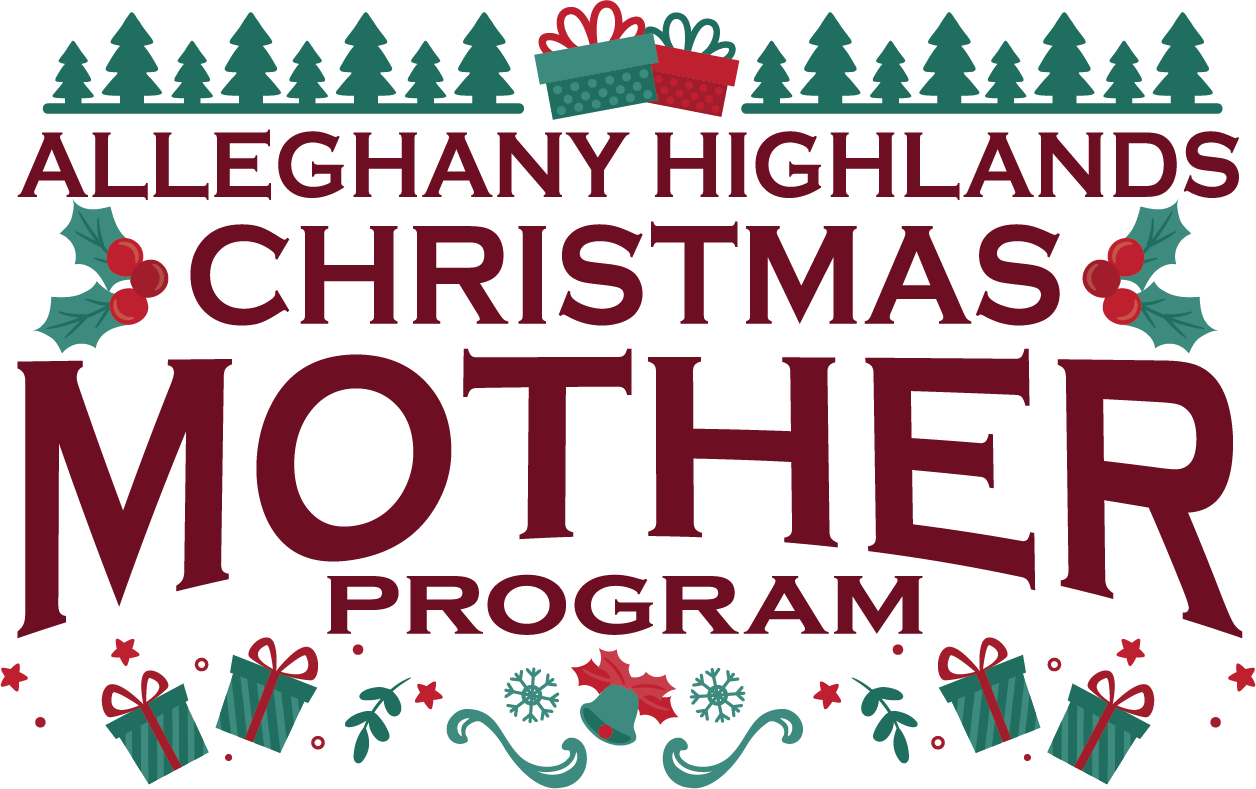 The Alleghany Highlands Christmas Mother Program was founded over 70 years ago to honor the birth of Christ by assisting families in need during Christmas.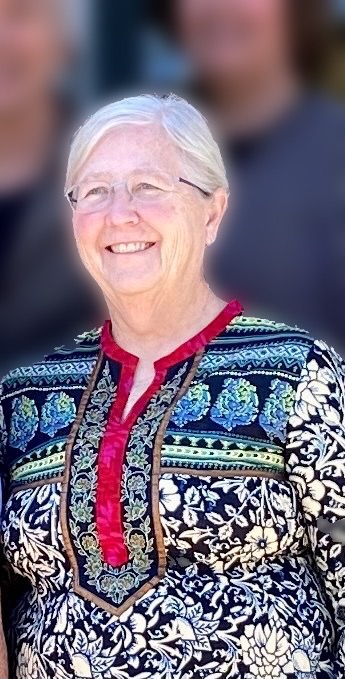 Sue Rollinson has been named the 2021 Alleghany Highlands Christmas Mother!
Important Donation Announcement:
NO USED ITEMS/DONATIONS WILL BE ACCEPTED BY THE CHRISTMAS MOTHER PROGRAM THIS YEAR DUE TO CONCERNS OVER THE TRANSMISSION OF COVID-19. Monetary donations and newly purchased items will be accepted. Thank you for understanding!!
Online applications should be filed from October 11 through 29, 2021. Use the "button" on this page to open the application. If a duplicate application is filed, only the first one received will be considered.
In November appointments will be scheduled for the identity verification step, and so that each applicant is assigned a date and time during our distribution days the week of December 13th. The location for the appointment will be confirmed during the phone call.
For the appointment, please bring with you Social Security Numbers for all members of your household, SNAP, TANF, Medicaid, and SSI/SSDI cards. Also, bring proof of employment and income. You must wear a mask and keep social distance in the Christmas Mother Shop.
Distribution will be December 13th-16th in front of Sacred Heart Parrish Hall on Locust Street Covington VA.
If you have a question concerning your application please call the shop at (540) 962-9077 or 540-969-6909 and leave a message. You will receive a response at our earliest opportunity.
Please visit this web page or the Alleghany Highlands Christmas Mother Facebook page for schedule and program updates.
It has been an honor and a privilege to serve as the 2021 Highlands Christmas Mother. I have been stunned, amazed, delighted, and humbled by the way everyone in the Alleghany Highlands comes together to support this program. A very heartfelt THANK YOU to the entire community.

My theme was "Be the Light" – be the spark of joy, for at least a few moments, in the lives of those who struggle with the necessities of daily life. Light shows up at crucial times throughout the Bible, from "And God said, 'Let there be light'" in Genesis to "The people who walked in darkness have seen a great light; those who have lived in a land of great darkness—on them light has shined" in Isaiah and Matthew. Pat Hartman (2014 Christmas Mother) passed along to me a piece by Elizabeth Gilbert (of Eat, Pray, Love fame) that captures this theme. It is too long to include here, but here's the internet link:
www.oprah.com/inspiration/elizabeth-gilbert-may-2016-o-magazine

I was only the public face of the Highlands Christmas Mother Program. Those bags don't fill themselves but require the work of a large and dedicated staff. Three women in particular deserve much of the credit for making this program successful. Libby Mynes, Dawn Smith, and Josephine O'Rourke made the "New Room" a model of efficiency. They knew what needed to be done and how to get it done. It's truly a pleasure to work with people who have deep knowledge of the program and can have things completed before the Christmas Mother even knew what needed to be done.

Brenda Lindsay (2009 Christmas Mother) worked tirelessly between 12-hour shifts with the Clifton Forge Rescue Squad to make sure that many families were "adopted" by churches, community groups, businesses, and individuals. Every adoption not only stretches our funds further but is one less bag that the New Room Ladies have to pack. Many thanks to all our adopters – individuals, churches, and organizations who brought light into nearly 100 households.

Several people served in specialized roles. Patsy Snead coordinated the office staff and answered continuously ringing phones. Harriet Woodward and Libby Mynes worked non-stop for a week taking applications. Sarah Burnette corralled bicycles and always seemed to be able to come up with the right bike. Debbie Umstead headed up teen bags. Judy Dotson handled our data processing needs. Kathleen All keeps the Christmas Mother finances on the up-and-up and to-the-penny. Jessica Gibson keeps our Facebook page up to date, while John Morris of Cov Designs keeps our web page under control. Daughter-in-law Maria Mangano took my idea of a candle in a window and turned it into a memorable logo for this year's program. Thanks to all!

The heart of the Christmas Mother program is the volunteers who make it all work. Volunteer Coordinator Denise Pillow (1995 Christmas Mother) did a fabulous job of keeping the help flowing as we needed it — a vital, but largely invisible, job. While the women mentioned above provided leadership for their sections, they were supported by about 100 additional volunteers. Boys' Home Key Club members were invaluable assistants during distribution. The HOSA club at JRTC refreshed the Christmas Mother bulletin boards in the Sacred Heart Parish Hall. In total there were 1600 hours of documented volunteer service, but this misses hours of unlogged time. Thanks go out to each and every one!

A special thanks to Toys for Tots, especially the hard work of Becky and J.D. Downer, and the Greenbrier Dream Tree program for providing hundreds of quality toys for all ages. The First Lieutenant Richard E. Lee, Jr. Memorial Fund provided several hundred children's books. The "Golden Girls" work year-long to sew hundreds of flannel pillowcases for our children, teens, and seniors. All are deeply appreciated.

This program would not be possible without the tremendous support of the community. The pictures and articles that make it into the press is but the tip of the iceberg. Over 50 non-monetary donations were received from individuals, organizations, churches, and schools. You donated new clothes, toys, games, bikes, heaters, small appliances, blankets, towels, and bedsheets. Over 100 monetary donations were received in the Christmas Mother Shop, with many more mailed in. Every donation shed more light for the Christmas Mother to disperse.

Local retailers and their employees may not realize that they are an essential part of the Christmas Mother program. Thank you for helping us with special purchases, in-kind donations, price breaks, bulk purchases, and patience when checking out large orders. If their store shelves were verging on empty, it might not have been entirely the fault of the supply chain, it might have been Christmas Mother "elves" at work!

Thank you to the Salvation Army and TAP. They helped with needs that the Christmas Mother cannot meet. Unlike the Christmas Mother, these organizations work year-round to assist those in need.

Thanks to the area pastors and religious leaders who started our days with inspiration, gratitude, and strength.

Many thanks to our public servants: The Alleghany County Sheriff's Office provided help and security during distribution. The City of Covington closed the 200 block of West Locust Street on distribution days and provided daily trash pickup – a critical need when we were unboxing thousands of items. The Covington-Alleghany Health Department put together informational bags (and not just about Covid-19!) for our teens and families.

Thanks to the Men of Mission who provided firewood to 10 households and helped with set-up, distribution, and take-down. Special thanks to Tad Robertson who always seemed to pop up when an extra pair of hands (and a truck) was needed with deliveries or bicycles or "whatever".

Thanks to our local media outlets – the Covington Virginian-Review, the Alleghany Journal, the Monterey Recorder, Big Al at 103.5 Big Country, and Bruce Young at WDBJ-7 – for providing essential publicity for the Christmas Mother program.

There are businesses that support the Christmas Mother program in the background. Rarely is a special request denied. You know who you are, and we are deeply appreciative.

All of this would not be possible without a facility to work in. Deepest thanks and appreciation to the congregation and leaders of Sacred Heart Catholic Church. It's a special church that allows a program to take over their Parish Hall for three weeks during Advent — a manifestation of the Holy Spirit in action.

Special thanks to past Christmas Mothers Brenda Linkenhoker (2020), Michele Wright (2018), and Dianne Garcia (1994) who were always available to answer questions, give a moral boost, and provide calming advice. Having had the "Covid kinks" worked out last year by Brenda Linkenhoker made this year much easier!

Now that the 2021 Highlands Christmas Mother program has ended, I realize that I should have been taking better notes as the project progressed. My sincere apology to anyone I have inadvertently omitted. I truly appreciate and value everyone who contributed to this effort. "It takes a village" is absolutely true for this program.

In the words of Dr. Seuss, "Nobody said it would be easy, they just promised it would be worth it." Even my dispersed family knows that it was worth it to have our personal Christmas delayed and family visits postponed. We'll see you all in February – Christmas presents in tow!

And to all, I wish everyone a happy, healthy, and blessed 2022.

Susan Rollinson
2021 Highlands Christmas Mother ... See MoreSee Less

Congratulations to you & Lon for being a fantastic Christmas Mother & Christmas Father. Stay healthy & safe in the new year. .
Love your thank you letter! 🙂 Congratulations on a successful job!
Congratulations on a year well done. You made 2021 a year to remember.
Thank you each & everyone!!!!
Load more